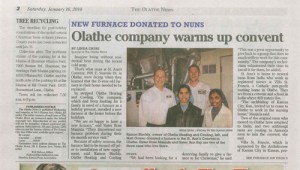 We are grateful to the community for supporting us for so many years. So, when we find a way to give back, we are happy to do so!
Every year we are proud to take part in the Olathe Old Settler's Day Parade and sponsor the Jared Coones Pumpkin Run. We also enjoy various sponsorships of the Olathe high schools.
Also be sure to check out our Heat and Eat Program to nominate your friend or neighbor who could use a brand new free furnace this Christmas!