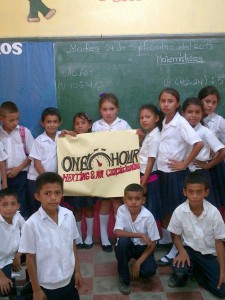 One Hour helped a class of third graders celebrate children's day on September 10th. They went to Wendy's for the first time. The kids had a kids meal, cake, a piñata an a bag of goodies also rented a small bus to go to the city.
School: CENTRO DE EDUCACION BASICA RAMON PADILLA COELLO
City: Choluteca
Town:( rural ) Pavana
Grade: 3rd
We enjoyed the cute pictures and thank you cards the kids sent back.  Hope you kids had a great day!