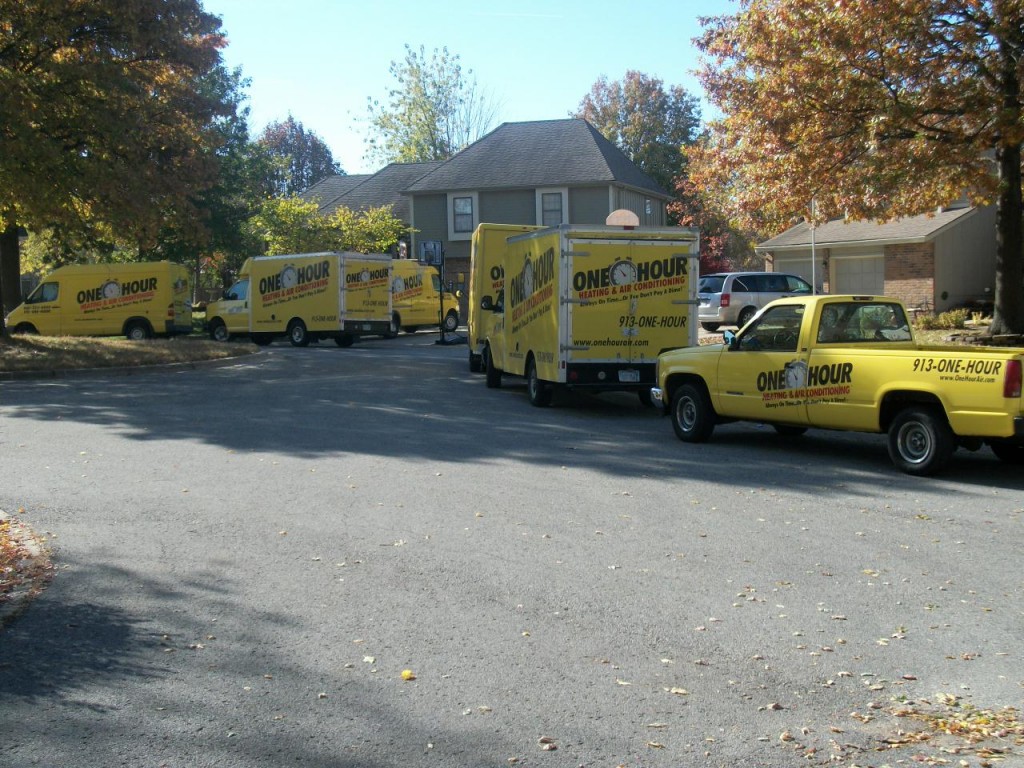 Ok who has the best caption for this picture? We'll kick off with: "if those trucks were red, someone's house is on fire." Hint: there's a $10 starbucks card in it for whichever one makes us laugh the most.
Results:
Sue D- One Hour Parking
Sara G – how many One Hour technicians does it take to install a lightbulb..er.. a heating system?
Kenneth K – I said I needed 'someone' to help at Kim Kardasian's winter system check but this is ridiculous! – Winner!  Congratulations Kenneth!
Donnie H – Our parking lot is being redone . So we had to park somewhere.
Lisa H – Practical Story Problems for 4th grade Math: If it takes one technician from OHH&AC one hour to fix a broken A/C, how quickly can they fix it if they call in 5 of their buddies? And most importantly, will they finish in time for the Chiefs game kickoff?
Mary F – My wife made pie! Come on over for a slice!  Said one OHH&AC employee to another, Word travels fast! Must be Some PIE!
Gayle A – One Hour will fix the problem no matter how big!
Don W – Those people better be REALLY comfortable AND SOON!
Richard D – Game time! Football and friends
Anne O – The word is out in our neighborhood about One Hour's fast and reliable service!
Michael D – Sorry about this but we are only allowed to work 1 hour per truck at a time and this job is going to take at least 6 hours.
Meghan C – Excellent customer service– one benefit of keeping your french maid costume on a little after Halloween.