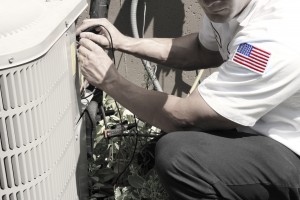 Have a heating or cooling problem? One Hour will help you find the solution that's right for your situation.
Click here to schedule an appointment.
Warehouse on Wheels®.
LOOK FOR THE BIG YELLOW TRUCK™ vehicle that pulls up to your door is fully stocked with a huge inventory with thousands of replacement parts.  Why should you care?  "Big Yellow Truck™" has been distinctive of One Hour's truck Fleet.
If you have any of the following HVAC problems in your home, please call us:
Air Conditioners
Air conditioners are normally whole house systems that provide cool air to your home. We provide service, installation and maintenance of quality energy rated systems. We will diagnose and troubleshoot your system to insure your needs meet your comfort level.
Furnaces
Furnaces provide heating for your home. Our trained technicians will insure that your system is running properly by inspecting and repairing all the necessary parts of your furnace, regardless of the fuel type you use to produce heat.
Heat Pumps
Heat pumps literally move heat from one place to another. Making sure that your system is properly operating is important in maintaining your home comfort levels. If you need inspection, repair or installation of any component of your system from the outside condensing unit and the refrigerant lines, to your air handler, call us.
Air Handler
The air handler is the principle air delivery system for your heating and air conditioning equipment. Comprised of various parts, we troubleshoot and diagnose issues that will keep the air moving within your home.
Ductwork/Indoor Air Quality
Maintaining quality indoor air is important to the health of your family, as well as, your Heating and Air Conditioning system. If you need inspection and or ductwork cleaning, call us. The return air duct, the supply duct and return air intakes to make sure that your system is operating properly and minimizes the amount of pollutants.
Thermostats
Thermostats are devices that control the call for heating or cooling. Our expert technicians will evaluate your needs, make recommendations, and install the best solution to meet your heating and air conditioning needs.
We Repair, Replace & Install All This & More …
Air Conditioners
Furnaces
Heat Pumps
Condenser Coils
Heat Exchangers
Motors
Burners
Circuit Boards
Compressors
Evaporator Coils
Control Valves
Pumps
Blower Fans
Universal Burners
Ignitors
Thermostats
Breakers
Contactors
Control Switches
Gas Valves
Drain Pans & Lines
Flues & Ducts
Relays
Sequencers
Timers
Bearings
Pilot Lights
Duct Cleaning